Routine Before Driving (RSM)
Routine before driving or Rutin Sebelum Memandu (RSM) is a set of instructions every driver has to follow once sit in driving seat to make sure that certain electronic, electrical, and mechanical systems of car are working normally. Like RPK, RSM procedure is also endorsed by Road Transport Department (JPJ), Malaysia to ensure safe on road driving experience.
Before starting drive, you must pull up the hand brake to restrict back or forth movement of car. Your car's gear should be in neutral position (for automatic cars, place the gear in parking "P" position). Now seat position should be adjusted according to your physique. Keep adjusting seat position until you feel comfortable. Now adjust side and rear view mirrors so that you can clearly see traffic behind you and/or vehicles approaching to pass on your left or right side.
Now it's time to activate accessory position of your car's ignition switch so that you may check electronic/electrical systems of your car. Keep an eye on various warning lights on your car dashboard. Some warning lights are red, some are blue or yellow. Dashboard warning lights inform you about various problems like problem in engine or electrical system, low level of brake or engine oil, high engine temperature, and other motor management indications. After satisfactory position on car's warning indicators, check that your car's signal indicators, hazard indicators, headlights, fog lights, front and rear wipers and associated water fountain system is effectively working.
It's time to switch on the engine. Are you ready? Turn your car's ignition switch to its last position to switch on the engine. Once engine is switched on, press accelerator pedal a little and observe the movement of needle on tachometer to ensure that your car's RPM meter is working fine. See fuel indicator on dashboard of your car. If fuel is insufficient, fuel up the car at the earliest. Now press the horn button to make sure that horn is working normally.
Now fasten your seat belt as you are ready to drive on road. Always remember to fasten seat belt when you are conducting RSM in front for JPJ examination officer. If you forget this, JPJ officer will immediately fail you and you have to make a new appointment for practical test with a new fee payment, of course. Below we are displaying important points JPJ considers to determine your test marks. RSM test carries 18 marks, ideally you have to obtain 15.3 marks to pass.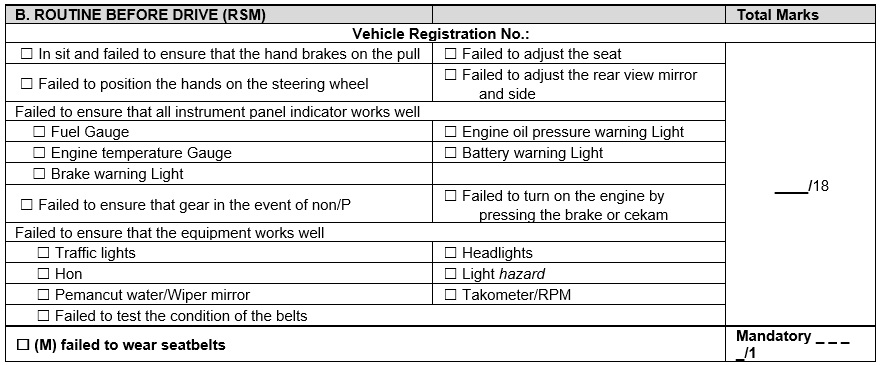 Keeping the importance of RSM in view, Drive in Malaysia (DIM) has especially prepared a set of activities you need to perform regularly and in front of JPJ examination officer. You should memorize this sequence of activities to conduct daily RSM and to pass JPJ practical driving test.
Routine Before Driving (RSM)- Step-by-Step Method
| No. | Action | In Malay |
| --- | --- | --- |
| 1 | Sit on driver's seat and press car brake pedal. Inspect hand brake and ensure that hand brake is pulled up. Release the pedal brake now. | Pemeriksaan Brek Tangan |
| 2 | Correct sitting posture is key to effective driving. Adjust the seat's height, position, and tilt according to your height and comfort. | Melaraskan Tempat Duduk |
| 3 | Correctly position your arms and hands. Keep your hands at the 10 and 2 o'clock positions on the steering wheel. | Menentukan Kedudukan Tangan Pada Stereng |
| 4 | Adjust both side view mirrors and rear view mirror. Make sure that side and rear views are clearly visible. | Melaraskan Cermin Pandang Belakang Dan Sisi |
| 5 | Insert car's key in ignition switch and turn your key to activate accessory position of ignition switch. You will see few alarms and meter movements on car's dashboard once you activate accessory position of ignition switch. | Aktifkan kedudukan aksesori suis pencucuhan |
| 6 | Ensure that fule is sufficient by looking at fuel gauge on car's dashboard. | Pemeriksaan Tolok Bahan Bakar |
| 7 | Check that engine is cool enough by looking at engine temperature gauge on car's dashboard. | Pemeriksaan Tolok suhu Enjin |
| 8 | Check that hand brake warning indicator is displayed on car's dashboard. | Pemeriksaan Brek Tangan |
| 9 | Make sure that gear is in neutral position. For automatic vehicles, make sure gear is in P (Parked) position. | Memastikan Gear Dalam Kedaan Bebas |
| 10 | Look at engine oil pressure warning ligh on your car's dashboard. A red warning light will be displayed in this stage. | Pemeriksaan Lampu Amaran Tekanan Minyak Enjin |
| 11 | Observe that a yellow colored battery warning light is displayed on your car's dashboard. | Pemeriksaan Bateri |
| 12 | After performing aforementioned steps, press the pedal brake and turn ignition switch to ON position to start the engine. | Hidupkan Enjin Dengen Menekan Brek |
| 13 | Check that the left/right signal indications are functioning fine. | Perkakasan lampu Isyarat |
| 14 | Turn ON headlights and make sure that both dipped beam and full beam are working well. When you will activate full beam, a blue light indicator will appear on your car's dashboard. | Perkakasan lampu Depan |
| 15 | Press warning/hazard light button and make sure it's working fine. | Perkakasan lampu Hazard |
| 16 | Press horn button and listen to its sound. Make sure it's working fine. | Perkakasan Hon |
| 17 | Turn ON windshield/rear screen car wipers. Test their low and high speeds functioning. In addition, also check that wind and rear screen water fountain system is functioning well. | Perkakasan Pemancut Air/ Pengelap Cermin |
| 18 | Check proper functioning of tachometer. Press accelerator/gas pedal slowly. See tachometer needle is moving and showing RPMs. | Perkakasan Tokor Meter |
| 19 | Check seat belt is in good condition. Ensure that tongue is properly sitting into buckle and release button on buckle is smoothly ejecting tongue. | Perkakasan Tali Pinggang Keledar Dalam Keadaan Baik |
Every candidate has to conduct RSM twice on the JPJ driving test day. You have to perform RSM once you sit in the car on test day. Your activities are observed by a JPJ officer and are noted but this time normal mistakes are ignored by JPJ officer and marks are not deducted. The second RSM would be conducted in front of JPJ officer once you sit in the car for on road practical driving test. This time the officer would strictly observe your performed RSM activities and deduct marks if you fail to perform any activity.
Don't forget to comment if you like our endeavour to facilitate your learning. If you will strictly follow above mentioned RSM activites, we are confident you'll get 100% marks in JPJ RSM test.