Routine Vehicle Inspection (RPK)
Every vehicle driver must thoroughly inspect the vehicle before starting it to ensure that overall condition of vehicle's body is good. In addition, a driver must ensure that required tools to replace punctured tyre, a well inflated spare tyre, and emergency triangle are placed in the car boot. All drivers should check water level of radiator, wiper reservoir, acid level of battery, and level of brake, power steering, and engine oils. All mentioned fluids levels should be maintained in order to avoid on road car malfunction.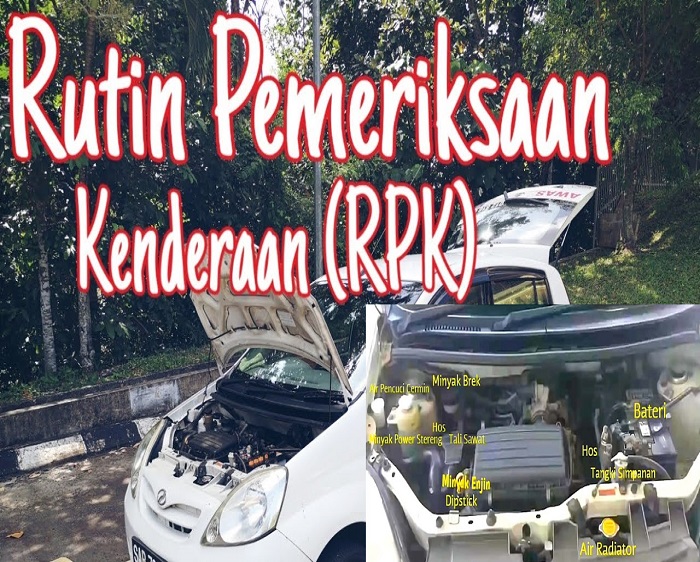 Always keep your valid driving licence, car insurance certificate, vehicle registration card with you while driving. In Malaysia, JPJ road tax payment certificate must be displayed at the left side of your car's windshield. Keep it in mind. Never forget this if you want to drive in Malaysia.
Aforementioned process to affirm the satisfactory condition of car is called Routine Vehicle Inspection [Rutin Pemeriksaan Kenderaan (RPK)] in Malaysia. RPK test is an essential component of JPJ driving licence test. All candidates need to conduct RPK in front of JPJ examination officer before starting driving test in driving school's circuit area. RPK test carries 22 marks, to pass the test, candidate must obtain 18.7 marks. The picture below shows the details of marks structure:
Drive in Malaysia (DIM) especially tabulated the sequence of activities should be performed in Routine Vehicle Inspection [Rutin Pemeriksaan Kenderaan (RPK)] and in front of JPJ examination officer while attempting the JPJ driving licence test. We recommend readers to memorize the mentioned sequence of activities and make RPK their routine habit before driving.
Routine Vehicle Inspection (RPK)- Step-by-Step Method
| No. | Action | In Malay |
| --- | --- | --- |
| 1 | Make sure valid JPJ road tax payment sticker is placed on left side of vehicle's windscreen. | Pelekat cukai jalan JPJ yang sah |
| 2 | See vehicle's front and rear windscreens are not broken or cracked. | Cermin Hadapan and Belakang |
| 3 | Check front windshield and/or rear windshield wipers are not dirty and rubber blades are okay. | Getah Pengelap Carmin |
| 4 | Check headlights. Vehicle's Headlights should be properly placed, should not be broken or loose. | Lampu Depan |
| 5 | Check rear lights and brake lights are in good condition. | Lampu Belakang/Brek |
| 6 | Touch left and right signal lights to ensure they are firmly in place and are not broken or loose. | Lampu Isyarat |
| 7 | Check front and back number plates. Plates should not be broken. Ensure numbers are clearly readable. | Nombor Plat Pendaftaran |
| 8 | Check car front and rear bumpers are not broken or loose. | Bumper |
| 9 | Check left and right door mirrors are firmly mounted, and mirror glass in not cracked or broken. | Cermin Pintu Kiri and Kanan |
| 10 | Check all tyres are in good condition. Especially focus on correct air pressure, pattern of tyre i.e., ribs, treads, treads block, grooves, and shoulder contour. | Tayar (Angin, Bunga, Keadaan Fizikal) |
| 11 | Check car boot door and boot lifter are in fine condition. Open the boot door to ensure its good status. | But |
| 12 | Make sure you have all tyre replacement tools i.e., lug wrench, extension bar, a jack, a well inflated spare tyre, and towing hook. | Perkakasan |
| 13 | An emergency triangle must be there in your toolkit. The triangle is essential when you need to warn road travelers to pass by your parked car cautiously. | Segi Tiga Kecemasan |
| 14 | Fully open and close car windows to make sure windows' mechanical features are working well. | Tingkap kereta |
| 15 | Open bonnet and check engine oil when the car is warm and on level ground. Remove the dipstick and wipe it clean. Push the dipstick in the engine oil tank, wait a second, and then withdraw it and check the level. The oil should be between the two marks indicated on dipstick. | Petunjuk Aras Pelincir |
| 16 | Check water in water storage tank is at normal level. | Tangki Air Simpanan |
| 17 | Open radiator cap when car engine is cool and check the water level. The coolant level should be near the top. Also press the spring and check rubber gasket inside radiator to verify both are in good condition. | Air Radiator |
| 18 | Check the car engine belt (Serpentine Belt) by pressing it to make sure it has desired level of tension. | Tali Sawat |
| 19 | Check hose to make sure it is well connected and not cracked. | Hos |
| 20 | Check brake oil and make sure that brake fluid level sits near the high marking on the reservoir. | Minyak Brek |
| 21 | Check power steering oil level sits near the high marking on the reservoir. | Minyak stereng kuasa |
| 22 | Keep your driving licence, IC and insurance document with you while driving. | Dokumen Kenderaan/Pemandu |
If this blog post and our endeavour to tabulate RPK activities helped you to learn RPK procedure and how to perform RPK while attempting JPJ driving licence test, please comment below and share your thoughts and experiences. Following our instruction, you can obtain full marks in JPJ RPK test. Don't forget to comment to let us know our content is beneficial for our readers.