The History of Motorcycle, Its Types and Contributing Factors to Motorcycle Injury Crashes in Malaysia
A motorcycle (motorbike, bike, or trike (if three-wheeled)) is a two or three-wheeled motor vehicle steered by a handlebar from a saddle-style seat ("Motorcycle". Encyclopedia Britannica. Archived from the original on 20 January 2022. Retrieved 12 June 2023). The first motorcycle with gasoline internal combustion was the Daimler Reitwagen which was produced in Germany by Gottlieb Daimler & Wilhelm Maybach in 1885. However, the first production motorcycle was produced by Hildebrand & Wolfmüller in 1894.
As a mode of transportation, motorcycles are comparable to automobiles worldwide. There were only 58.6 million new motorcycles sold worldwide in 2021, compared to 66.7 million cars sold during the same time. ("Global car sales 2010-2021". Statista. Archived from the original on 29 April 2022. Retrieved 12 June 2023) the six main types of motorcycles are commonly referred to as standard, cruiser, touring, sports, off-road, and dual-purpose motorcycles (Domino, 2009). Here is a breakdown of the various types of motorcycles available, along with solid suggestions to keep in mind when buying the motorcycles:
Standard Bike
The standard motorcycle type has a simple design, is suitable for all purposes, and is generally popular. It comes in variations from 125cc to 1,000cc and can be equipped with luggage, a tank bag and an extra seat. It is an excellent entry-level and all-around bike. A large front fairing, if at all, is usually not included.
Cruisers
Cruisers, also known as choppers, are designed for cruising, hence the name. With a slightly lower seat height, it is usually a great 'cruise' bike around town, but with additional luggage, it is also great as a weekend rider. Again, engine sizes vary by brand, from small displacement engines to 1,000cc and above.
Sport Bike
Motorcycles in the sports genre are built for speed and agility, with forward-leaning ergonomics ready to turn corners while riding. One of the big difference between sports bikes and other ones is weight. These are generally lightweight bikes, built with heavy use of aluminum and lightweight materials for better left/right maneuverability. The seat height is usually set higher to allow the motorcycle to lan further without damaging the foot pegs or fairing. Smaller riders can tiptoe with the higher seat height.
Touring Bike
The touring bike is typically larger than other bikes and is intended to provide good equipment for overland touring exploring beaches and touring places. With ample storage space and simple ergonomics, you can ride for hours. It will be equipped with the largest fairing to protect against wind and weather while driving. The engine size is usually large to keep speed on the highway and to carry tons of extra gears and clothing.
Sport Touring
Sport touring bikes, as the name suggests, are bikes that tightly combine sport and touring. They typically have a higher seat height than touring bikes and more luggage options than sport bikes for carrying extra gear on long trips. It is a good mix of both styles, and with the right gear, it can handle anything, whether it is a short trip with friends or a long road trip, you have had in mind. Motor sizes typically range from mid-range to some large motors. Use your own judgment to determine the size that best suits your needs and riding style.
Dual Sport Bike
Dual Sport is designed to go anywhere and do anything. It has street characteristics with lights and horns, but more aggressive off-road suspension and potentially bumpy off-road tires. The seat height is generally slightly higher when driving on back roads or off the beaten track. Generally, dealers install limited storage facilities. Still, you can install a few extra pockets to carry plenty of gear for your weekend camping adventures.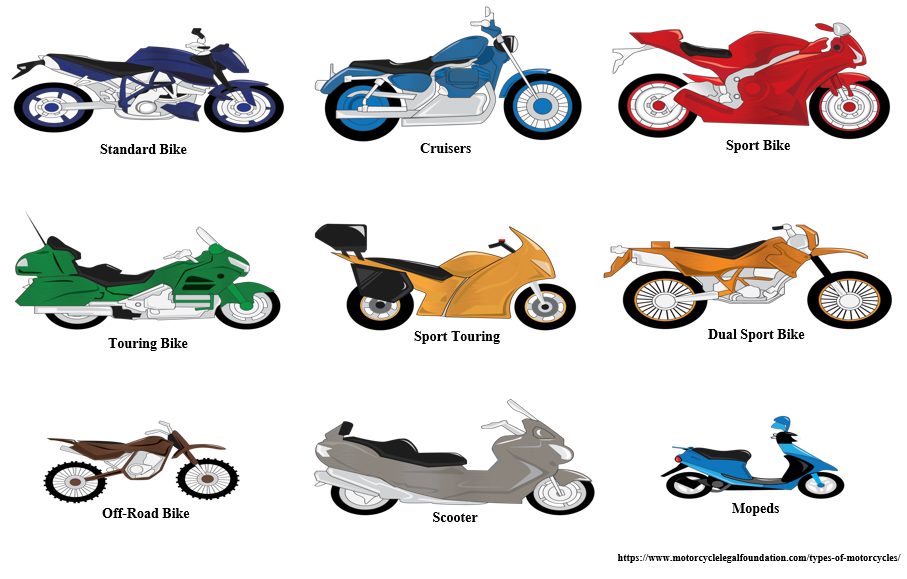 Off-Road Bike
An off-road bike is exactly what it sounds like. To go where no one has been before. It has a taller seat for deeper brushes and a taller suspension for some bumps. These are typically not equipped with lights or indicators and may be trailered to the weekend exit point. Most are fairly light and ready to hit the back roads all weekend.
Scooter
Some might argue that scooters are not real motorcycles, but like their big brothers, they get you around safely and in style. Scooters are great for metropolitan areas where there is no highway speed. Its lightweight and low height from the ground make it easy to navigate city streets without having to carry it around all day. Available in a variety of sizes from 50cc to 500cc, it has plenty of power for work or a fun night out on the town. Perfect for cruising, as the fairing is small and has limited space for a* few items.
Mopeds
One might wonder if mopeds should be called scooters or a subcategory of scooters, but they are not exactly the same. A moped has a lightweight bicycle-style frame and a small engine (50cc or less), or an electric motor instead of an engine. It is light and has limited power, but it is retro and cool. There is minimal to no storage space and limited to no wind and weather blocking panels.
Road Accident Statistics
From 1990 to 2010, traffic fatalities increased by 46% globally, and by 2030, they are anticipated to rise from the eighth to the fifth leading cause of death (World Health Organization, 2008). In low- and middle-income countries (LMICs), motorcycles are emerged as a major cause of traffic accidents. WHO found that 92% of the yearly road traffic mortalities happen in LMICs, however, these countries record approx. 53% of the world's reported vehicles (WHO, 2013a). To battle this disturbing pattern in LMICs, the UN General assembly passed a resolution no. 64/255 in May 2011, suggesting that year 2011-2020 should be considered as decade of Action for Road Safety (United Nations General Assembly, 2010). The goal states "stabilize and then reduce the forecast level of road-traffic fatalities around the world by increasing activities conducted at the national, regional, and global levels". South-east Asia is a region in need of immediate attention because road accidents had become the fifth leading cause of life with disability and probable life loss in South-East Asia in 2010 (Lozano et al., 2013; Murray and others, 2013).
In Malaysia, road accidents are a major problem that needs to be addressed by both the authorities in charge and the public in order to keep the number of accidents and fatalities from rising. According to Sullman et al. (2015), the 2008 road accident rate in Malaysia was 23.5 per 100,000 people, which is higher than the rates in other developing countries in the Asia-Pacific region like Australia (6.8 per 100,000) and New Zealand (8.6 per 100,000). However, compared to other nations, which are leading in road safety education, for example, the Netherlands (4.1 per 100,000) and Sweden/UK (4.3 per 100,000), this rate is significantly higher. In Association of Southeast Asian Nations (ASEAN), analysis done by World Health Organization (based on data in 2013 and reported in Global Status Report on Road Safety, 2015), Malaysia recorded index of 24 per 100,000 people and become the 3rd highest after Thailand (36.2/100,000) and Vietnam (24.4 /100,000) compare to Singapore recorded 3.6 per 100,000 people and become the lowest amongst ASEAN countries. (Idris, 2019).
Factors Contributing to Motorcycle Accidents in Malaysia
The Malaysian Road Safety Research Institute (MIROS) studied traffic accident data for 2011 and found that the causes of accidents were mainly due to human behavior and carelessness, road infrastructure and environment, and vehicle condition. Human behavior/inattentiveness is the most significant factor contributing to road accidents, with a share of 80.6% compared to road infrastructure and environment (13.2%), while vehicle factor is only 6.2%. (Buku Statistik Kemalangan Jalan Raya Malaysia, Ministry of Transport Malaysia, 2017) Muhammad Marizwan Abdul Manan and András Várhelyi (2012) found that there are three main types of motorcycle accidents in Malaysia. Collisions with cars were the most common, at 28%. The other two types are the same percentage. 25% are single motorcycle accidents and collisions with other motorcycles.
According to Marizwan et al. (2012), Malaysia still has the lowest number of motorcycle fatalities per 10,000 motorcycle registrations among ASEAN countries, ranking 7th out of 10. However, Malaysia still holds the record for the highest number of road fatalities per 100,000 population. Most of the motorcycle fatalities occur on the west coast of Malaysia, which has the highest number of registered motorcycles and population. Most of the motorcycle fatalities occurred in rural areas (61%), on roads (62%) especially highways or main roads (62%), and most of them were straight roads (66%). The number of motorcycle fatalities is highest from Saturday to Tuesday (60%) and between 4 pm and 10 pm (35%). Most deaths occur during the day and in clear weather. Side collisions (27.5%) had the highest number of deaths by type of impact. While motorcycle-to-motorcycle fatalities often involve a "passenger vehicle" (28%), either a personal accident (25%) or a collision with another motorcycle (25%), where 50% of accidents were happened by motorcycle. Motorcyclists aged 16 to 20 (22.5%) have the highest number of motorcycle fatalities (89%), and 90% of these motorcycles were privately owned. 75% of motorcyclists involved in fatal accidents wear helmets and 35% of them do not have a valid driver's license. Although male motorcyclists predominate (94%), the number of female traffic fatalities in the 31-40, 46-50, and 56-70 age groups were higher than that of male motorcyclists. Additionally, women are more likely to be involved in fatal accidents during the day. Women either do not have a driver's license or have had it for less than five years and are slightly more likely to wear helmets than men.
Suggestions
To ensure that the correct policy is established and the proposed mitigation plan is successfully implemented in accordance with the agreed-upon milestone, it is crucial for the policymaker to communicate effectively with the academic/researcher and all of the stakeholders involved. The funding aspect, particularly the implementation and monitoring of the action's results, should be investigated to ensure that the mitigation measures are carried out appropriately. It is essential to monitor the action's efficacy in order to avoid funding loss without achieving the intended goals.
References
Douglas R. Roehler, Chariya Ear, Erin M. Parker, Panhavuth Sem & Michael F. Ballesteros (2015) Fatal motorcycle crashes: a growing public health problem in Cambodia, International Journal of Injury Control and Safety Promotion, 22:2, 165-171, DOI:10.1080/17457300.2013.876050
Lozano, R., Naghavi, M., Foreman, K., Lim, S., Shibuya, K., Aboyan, V. Murray, C.J.L. (2013). Global and regional mortality from 235 causes of death for 20 age groups in 1990 and 2010: A systematic analysis for the Global Burden of Disease Study 2010. The Lancet, 380, 2095–2128.
World Health Organization. (2008). World health statistics 2008. Geneva:Author. Retrieved from http://www.who.int/whosis/ whostat/2008/en/index.html
World Health Organization. (2013a). Global Status Report on Road Safety 2013: Supporting a decade of action. Geneva
United Nations General Assembly. (2010, March 2) 74th Plenary Meeting. "Resolution 64/255 (2010) [On Improving global road safety]" (A/RES/64/255). Retrieved from http://www. who.int/entity/violence_injury_prevention/publications/road_ traffic/UN_GA_resolution-54-255-en.pdf
Muhammad Marizwan Abdul Manan, Jen Sim Ho, Syed Tajul Malik Syed Tajul Arif, Muhammad Ruhaizat Abdul Ghani, Andras Varhelyi, (2017). Factor Associated With Motorcyclists Speed Behaviour On Malaysian Roads. Transportation Research Part F 50, 109 – 127.
Idris, A., Hamid, H., & Teik Hua, L. (2019). Factors contributing to motorcycle accidents in Malaysia. IOP Conference Series: Earth and Environmental Science, 357, 012039. doi:10.1088/1755-1315/357/1/012039
Michael Padway, (2023). A beginner's guide to types of motorcycles. Motorcycle Legal Foundation. https://www.motorcyclelegalfoundation.com/types-of-motorcycles/
Mark J.M. Sullman, Amanda N. Stephen, Michelle Yong, (2015). Anger, Aggression and Road Rage Behaviour in Malaysian Driver. Transportation Research Part F 29, 70 – 82.
Domino, Kevin (2009), The Perfect Motorcycle: How to Choose, Find and Buy the Perfect New Or Used Bike, 671 Press, pp. 47–58.
About the Author
Dr. Hafiz Abbas holds a PhD in Usuluddin from Universiti Sultan Azlan Shah (USAS), Malaysia. He is well versed with Islamic theology, Seerat-un-Nabi (SAW), and principles of Hadith. In addition, he is a teacher of Arabic.
Edited by: Ch. Mahmood Anwar (PhD)
Do comment on this article if you are fond of motorbike riding!