School Bus History, Color Choice and School Transportation in Malaysia
In the 1930s, Frank W. Cyr (July 7, 1900 – August 1, 1995) (an American educator and author known especially for his contribution to school busing) made a study on school transportation. He learned that students were riding on all types of vehicles, including trucks and buses of every imaginable color and condition. One district's buses sported red, white and blue decor, perhaps hoping to instill patriotism in its passengers. A Kansas district transported its students in horse-drawn wheat wagons. School bus manufacturers complained that because there were no national standards, they could not mass-produce the buses, nor make a profit and keep costs down.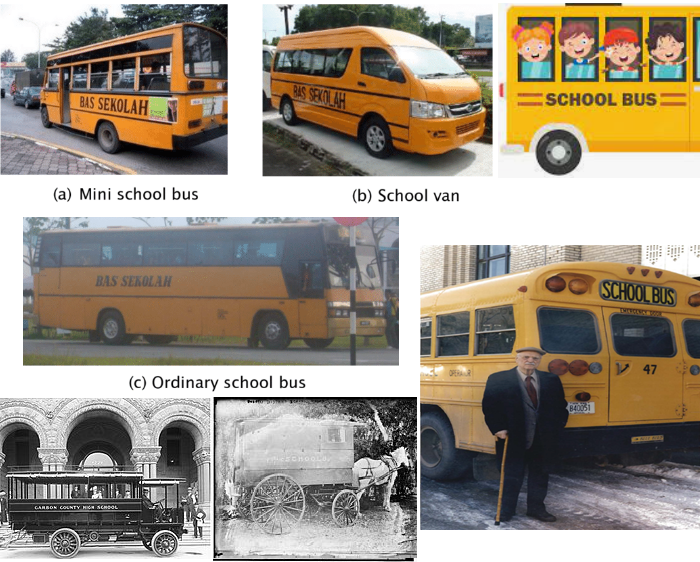 The picture below shows a bus with a color specifically chosen for use in the North American school bus paint since 1939. The color is now officially known in Canada and the United States as the "National School Bus Chrome" now known as National Glossy School bus yellow.
This color was chosen because it attracts attention and can be noticed quickly and easily faster than any other color. The scientists describe it this way: "The lateral peripheral vision for yellow is 1.24 times greater than for red".
In April 1939, Frank W. Cyr, a professor at Teachers College, Columbia University, organized a conference in New York in which national standards for school bus construction were established for United States, including the standard yellow color for school buses. The color was chosen because the black lettering on yellow color was easier to see in the semi-darkness of the early morning.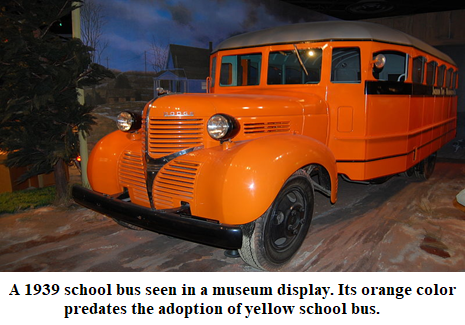 The conference continued for seven days where the participants created a total of 44 standards, including specifications regarding bus body length, roof height, and aisle width. Engineers from Blue Bird Body Co., Chevrolet, International Harvester, Dodge, and Ford Motor Company, as well as paint experts from DuPont and Pittsburgh Paint showed up. (Watson, R.J.; Watson, R.S. (2002). The School as a Safe Haven. Greenwood Publishing Group. pp. 30–31. ISBN 978-0-89789-900-0. Retrieved January 19, 2023).
Dr. Cyr's conference, funded by a $5,000 grant sponsored by the Rockefeller Foundation (The Rockefeller Foundation is an American private foundation and philanthropic medical research and arts funding organization based in New York City. The second-oldest major philanthropic institution in America, after the Carnegie Corporation), was notable for the impressive attendance of transportation officials from each of the 48 states, as well as the presence of professionals from school bus and paint manufacturers. The National Bureau of Standards (now the National Institute of Standards and Technology) had approved the color as Federal Standard No. 595a. The conference's approach to setting school bus safety standards, as well as yellow color, has continued to this day. Dr. Cyr became known as the "Father of the Yellow School Bus". Dr. Cyr was an American educator and author known especially for his contribution to school busing. (Frank W. Cyr, 95, "Father of the Yellow School Bus". Columbia University Record. 21 (1). September 8, 1995. Archived from the original on January 19, 2023. Retrieved January 14, 2021).
Descriptive Statistics of School Buses
In the US, more than 50 million children between the ages of 5 to 17 traveled to schools in 2017, according to the 2017 National Household Travel Survey (NHTS). More than half (54.2%) were driven to school in private vehicles, while 33.2% typically traveled by school buses. While in developing countries, for example in kingdom of Saudi Arabia, the number of beneficiaries during the 2020 academic year reached more than 1.2 million male and female students in the general education stages, who are transported through a huge fleet of more than 25,000 buses and vehicles, and more than 50,000 trips are carried out daily, covering 18,000 schools. (www.spa.gov.sa/w1349307).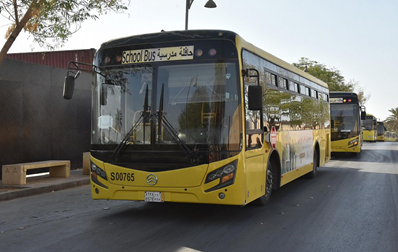 The total population of Saudi Arabia is 35.95 million (2021). While Malaysia which is also a developing country has a population of 33.57 million (2021). From the current literature, it seems that the research on the students' travel mode in Malaysia has not been conducted and require attention of transportation scholars.
However, a study carried out by MIROS to determine the exposure and travel mode of school transportation by survey method at 59 schools in Selangor. Total 5426 parents participated in this survey, 47% have children from primary school and 53% have children from secondary school. About 26% of the student lives more than 6 km away from school. 41% of parents choose motorcars as the main travel mode for their children. However, the analysis shows that 66% choose "walk" mode of travel distance is less than 1 km. Although, the motorcar is the popular travel mode to school, there are some children reaching out to schools by walk or using bicycle for almost any distance.
The main school travel mode is motorcar, which is amounted of 41%. This is followed by school bus/van and public transport, which is 27% and about 22% of the respondent children chose the motorcycle as the school travel mode. Only 10% respondents identify themselves using the non-motorist (walk and bicycle) mode of transport to school. (MRR no. 305).
This study shows that 27% students used the school bus or van while the motorcar share is 41%. One of the limitation of the study was it was conducted in Selangor state only, if the same study be carried out in the whole country or at least in major cities, the numbers will be different. While total enrollment for year 2020 in Selangor, both primary and secondary levels was 899,028. (Ministry of Education Malaysia).
There is no clear figure about the number of school buses and vans in Malaysia. Federation of School Bus Associations Malaysia, which has no official records as it does not own any website, Facebook page or any contact information. However, once the Federation of Malaysian School Bus Operators Association president Amali Munif Rahmat said an estimated 6,000 school bus drivers out of the registered 16,000 are expected to return to work when schools reopened. In the same article it was mentioned, "Recently, school bus operators have raised several issues ranging from a lack of buses and drivers to an increase in overheads, competition from illegal operators, and the need for a school bus fare subsidy to help both the industry and parents cope with rising costs. (https://www.thestar.com.my/news/nation/2022/01/12/group-warns-of-more-illegal-school-bus-drivers). The number of registered drivers i.e., 16000 may correspond to the number of school buses/vans, however, the exact number of buses and seats is unknown.
However, there is another federation of school buses named "Persatuan Pengusaha Bas Sekolah Bumiputra Kuala Lumpur & Selangor" but unfortunately, there are no records and data available about it in online space.
The monthly fees for choosing a school bus is always less than the cost of petrol for driving a private vehicle. It saves fuel that eventually saves money. Therefore, school transportation is economically beneficial for the parents. Not only this, but there are many most important benefits of using a school bus as a mode of school transport.
• Helpful to reduce traffic congestion
• Helpful in reduction of pollution
• Helping out students to be punctual
• Helpful to keep students active
• Safe and smart driving by trained drivers
• Helpful in making new friends for children
• Help children to be responsible and mature
• Reason of comfort for parents
• Practical and time saving
• Easily accessible
• Economically beneficial
• Parents can easily manage their time
• Parents can keep an eye on their children by tracking them
• School staff can stay updated on the bus location
• Being punctual to attend classes
• School buses are easily recognizable
• Equipped with safety features
Including other security factors, school conveyance is equipped with different safety features inside the bus. The high quality secured lock prevents students from opening it anytime while the bus is in transit. In addition, school buses are equipped with a closed window, so that students do not take their arms out.
Additionally, the tracking system is useful to keep track of the bus location, its speed, and the time of arrival. With the tally list of benefits ranging from environmental safety and time management to location tracking through school bus GPS tracking system, buses are the safest way to commute. Therefore, it is time for parents to hire a school bus for the security of your little ones. In addition to the above advantages, school buses are providing job opportunities for many unemployed drivers.
About the Author
Dr. Hafiz Abbas holds a PhD in Usuluddin from Universiti Sultan Azlan Shah (USAS), Malaysia. He is well versed with Islamic theology, Seerat-un-Nabi (SAW), and principles of Hadith. In addition, he is a teacher of Arabic.
Edited by: Ch. Mahmood Anwar
Do comment on this article if you liked our post!