Car Tires Essentials, Types of Tires and Top 12 Car Tire Brands in Malaysia
A car is a very complex amalgamation of many components, each of it working in its place. All components work together to bring you safely and affordably, while the tires directly move this huge mass of many components smoothly and comfortably without feeling the entire interior details. However, among the thousands of things that make the cars work, the tires are the only parts that touch the ground and it is what drives it.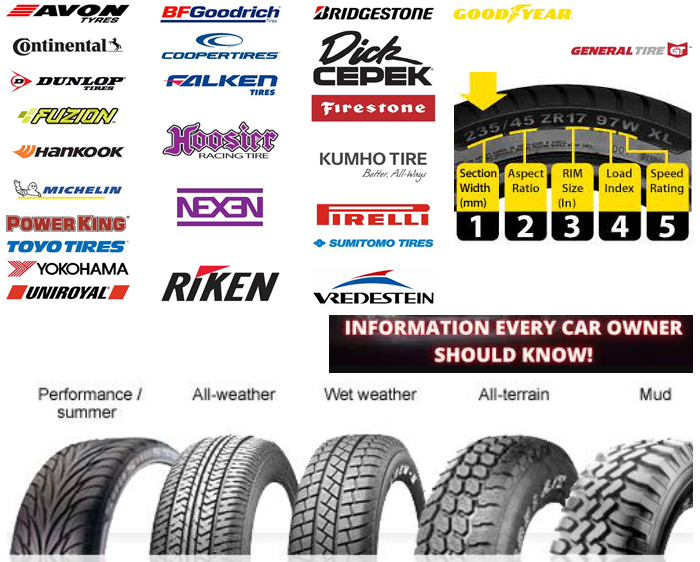 How to Take Care of Your Tires
Every part of your car serves a purpose, but there is one area that is often overlooked and that is the car tires. Having the right tires can improve your fuel economy, handling, and your overall safety. In the following points, we will mention some ways to maintain your car tires.
• Air Pressure
Getting in the habit of constantly checking your tire pressure can go a long way in improving your driving practice. Underinflated tires consume more gas, which is bad for your car's fuel economy, while overinflated tires can reduce your handling, which puts you and everyone else on the road at greater risk.
Remember to check if your tires are cold and not used recently. To control your tire pressure correctly, you will first need to determine the recommended amount of air for your vehicle. This number can be used to compare with your current set, which you can measure with a tire gauge. If your set is incorrectly inflated, there are some easy ways to make the appropriate adjustments.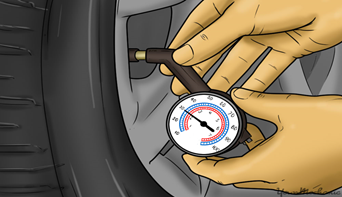 • Tire Pressure
To increase the pressure you will need to drive to the nearest gas station to use their air compressors. If you feel comfortable using it yourself remove the valve stem caps from under-inflated tires and use the compressor to fill them up to the correct pressure level. To release and reduce the air, just press down on the needle in the middle of the valve with a pen and wait until it reaches the recommended amount.
• Other Quick Checks
There are few quick checks, which you should pay attention to on a daily basis before getting into your car. If you notice uneven tread wear around the edge of the tire, this may indicate improper wheel alignment, if this is the case, you should take your vehicle inside to realign it, as this will help improve fuel efficiency and safety.
• Wheel Balancing
To help avoid any alignment issues, it is a good idea to get them rotated every now and then, as the front tires tend to wear faster as they are leaned on when turning.
Car Tire Parts
Tires have a lot more engineering inside them than you do might expect, here are the key parts of tire:
• Outer surface (Tread)
Most people are familiar with this. The tread allows the tire to conform to and grip the road surface, channel water out of the road and dissipate heat. The tread is usually measured in 32nds of an inch. While measurements vary, most passenger car tires start at around 9/32 to 10/32 inch from the tread, reaching the end of its life about 2/32 to 3/32.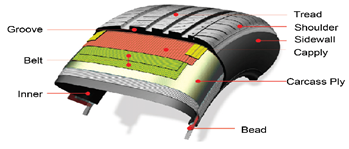 • Sidewall
The hardened rubber is on the side of the tire between the tread and the wheel rim, the hardness and size of this area will have a significant impact on the vehicle's ride and handling characteristics. For example, high-performance cars may be equipped with rigid, short sidewall tires to prevent flex during hard and sharp cornering and give maximum grip, while those on a passenger car or truck may use a longer, more flexible sidewall to improve ride comfort; this is where the all information about the frame is printed in.
• Bead Core
A solid core of rubber with a reinforced steel cable running through it where it meets the tire and locks onto the wheel, while early tires had inner tubes (like bicycle tires), the bead in modern tires provides a tight seal against the wheel.
• Tread Wear Indicator
These are thin lines of raised rubber running between and perpendicular to the tread rows, when the tread has worn to the point where individual tread blocks/rows are even with these indicator strips, the manufacturer feels the tire has reached the end of its usable life and must be replaced.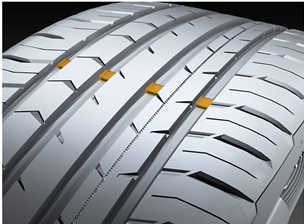 Types of Tires
1. All-Season Tires
All-season tires are manufactured to provide comfort and control on a highway, as well as secure all-season traction. These will typically have symmetrical directional patterns and surface grooves for wet grip.
2. Touring Tires
Manufactured to provide a comfortable ride and reliable all-season traction with more sensitive handling, these are also called Grand Touring tires, they usually have higher speed ratings than all-season tires. High-performance sports cars and sedans use touring tires because they usually require better handling skills. When buying tires, you need to understand the different types of tires and the right one for you. After selecting the right type of tire for your vehicle, you can decide which type is best for you based on your driving skills.
3. Performance Tires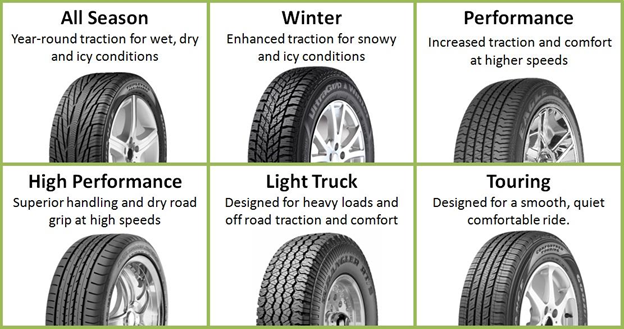 Performance tires are usually larger and have side grooves, especially, to batter work in wet and dry conditions. They also have the common feature of considerably dense sips and mixed compounds rich in silica, for better grip. No matter the weather, these types of tires have a higher velocity than touring tires. Performance tires are actually designed for a wide variety of vehicles, including sports cars, SUVs, and luxury cars; primarily used to improve handling, especially on wet roads.
4. Summer Tires
Summer tires are also designed to perform in wet and dry situations. They are not made for all-season traction. They adapt to hot climates and provide sensitive grip and handling in wet or dry conditions. The temperature range for safe summer tires is above 45 degrees Fahrenheit. Summer tires usually have solid contact patches, grooves with enough circumference to resist aquaplaning, and not tear. They are used during dry periods or throughout the year in areas that do not have a true winter.
5. Track and Speed Tires
These tires are used in oval track racing, where maximum traction from each wheel is required for steering and braking. These tires are similar to road performance tires in that they are designed to deliver maximum performance, and this type of tire is rarely used for everyday driving. Track and racing competition tires are used to provide continuous road contact in dry seasons, differ from summer tires in their construction, and often provide a high-tech structure and reinforcement for the pavement.
Global Tire Brands Ranking
According to Brand Finance, (the world's leading independent brand valuation and strategy consultancy for more than 20 years), below are the global top 10 tire brands: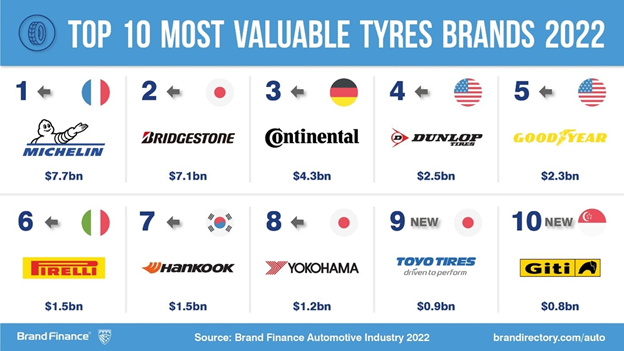 Top 12 Tire Brands in Malaysia
For a smooth and comfortable ride, Snkhaliesah finalized 12 best brands of tires in Malaysia after conducting a remarkable research work. Here is the list:
1. Michelin Energy XM2+
2. Continental Comfort Contact 6 CC6
3. Goodyear Assurance TripleMax 2
4. Bridgestone Ecopia EP300
5. Michelin Primacy 4 ST
6. Goodyear Asymmetric 5
7. Continental Max Contact 6
8. Bridgestone Potenza Adrenalin RE004
9. BF Goodrich All-Terrain AT KO2
10. Silverstone AT-117
11. Dunlop Max Grip AT5
12. Bridgestone Dueler A/T 697
Summary of recommendations for common types of cars (sedan, hatchback & 4WD) can be found here: productnation.co/my/28266/best-tyre-malaysia
About the Author
Dr. Hafiz Abbas holds a PhD in Usuluddin from Universiti Sultan Azlan Shah (USAS), Malaysia. He is well versed with Islamic theology, Seerat-un-Nabi (SAW), and principles of Hadith. In addition, he is a teacher of Arabic.
Edited by: Ch. Mahmood Anwar
Do comment on this article if you liked our post!